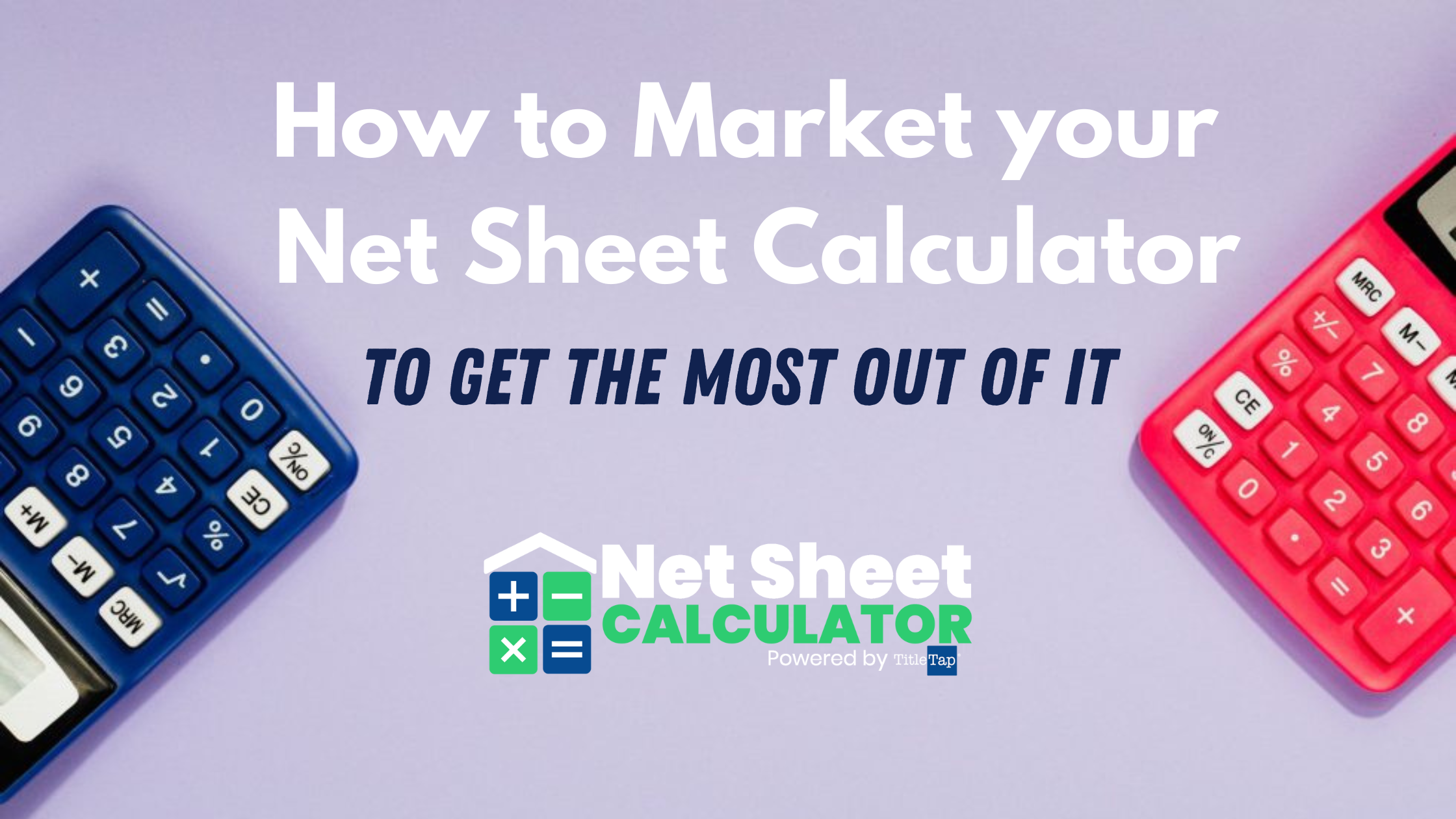 The pandemic has forced title agents and attorneys to change how they market themselves.
Almost overnight, hosting parties, and events, and taking Realtors to lunch was no longer as viable of a marketing option as it once was.
Fortunately, digital solutions have been around for several years and continue to evolve to fit multiple gaps. One is in your marketing.
In an earlier post, we shared some of the benefits of having a net sheet calculator and how it can save you time, keep you top of mind and help you close more real estate transactions.
In this post, we're diving into some of the ways you can use a net sheet calculator to improve your marketing campaigns, including:
Why market your net sheet calculator?
Why market your net sheet calculator?
To understand why it's so important to market the calculator, you should know how it can help your title business. There are 4 distinct advantages for title agents and attorneys that provide net sheet calculators:
Provide faster and better levels of service by getting Realtors and Lenders the rates they need when they need it.
Use your time on real closings and let your calculator do the work for those prospects just kicking the tires.
Improve brand awareness and stay top of mind with a utility tool that helps Realtors and Lenders close more deals faster.
Access business intelligence that gives you an insider view of what deals prospects are working on so you can better serve them and get a pulse on the pipeline.
With all of these advantages in providing a net sheet calculator, it's crucial that you actively market all the benefits to your prospects and customers. Here are 6 marketing tactics you can use to get your net sheet calculator in the hands of more Realtors and Lenders.
1. Utilize print materials
Though marketing efforts in the real estate industry are trending digital, you can still take advantage of print collateral. Even contactless closing often required parties to sign in person at the title company's office. Take advantage of this by getting print flyers, brochures, or postcards in the hands of Realtors and Lenders.
Print materials don't have to be expensive. You can use your own printer and a free design tool like Canva. Canva has templates for different types of print marketing materials, and you can even upload your own photos. It's very user-friendly.
In fact, one way to take this to the next level is to staple these flyers to a commission check, so it is almost guaranteed that they'll see it since they have to peel it off to get to their money.
Pro Tip: To see an example of a brochure that comes with every TitleTap net sheet calculator, request a demo.
2. Customize your net sheet calculator
If your net sheet calculator allows for customized branding, it can be like having your own billboard in the pocket of your Realtors and Lenders with your company name and logo. Depending on how capable the branding options are, you may even be able to cobrand it so that the Realtor or Lender sees their picture or logo alongside yours as well as the pre-populated estimate information.
The best part is that with some calculators you can even customize it with your own fees so your customers get quotes that are more accurate and specific to your business.
Unfortunately, this isn't often available with free underwriter rate calculators. However, if this is a feature you are interested in, you can learn more about your options here.
3. Act on business intelligence
Different net sheet calculators vary in their functions and features. Capturing each user who logs in, shares something, uses the calculator, or prints a seller net sheet are powerful insights for your marketing.
Having this type of data on hand gives you an insider track to the user's pipeline and where they're at in deal flow. This provides more information for you as a title agent or attorney to discuss on calls than just small talk.
With this type of business intelligence, you can optimize follow-ups. For instance, you could call and ask, "I see you're working on 123 Smith Street. Is that deal still active?" "Is the customer married, separated, or single?" Being able to do some relevant due diligence ahead of the sale or purchase; like making sure your client has all the appropriate parties signing the contract and getting ahead of any potential pitfalls can be a big plus to a successful closing experience.
Knowing when to act on a deal is just as important as knowing which deals require action.
In addition, being able to see who is using it and who isn't allows for a follow-up opportunity for those not using it to re-engage.
Pro Tip: Learn more about TitleTap's calculator reporting capabilities here.
4. Focus on the right prospects
Using a net sheet calculator allows you to effectively weed out the tire kickers and follow up on the deals that are more likely to pan out. Often, Realtors and Lenders need instant responses from title companies with estimates for their clients. Not every one of these inquiries will lead to a contract or closing opportunity. More often than not, the buyers, sellers, or borrowers may be in the beginning phases of the process.
Save your time and efforts by letting your calculator work for you. You can then focus on marketing your services to the Realtors and Lenders that are farther along in their deal.
5. Offer the tool to the other side
If you are working with Realtors, there are typically two sides to the transaction. As a title agent or closing attorney, you're likely brought into the equation by just one side. When you're less familiar with the other agent or haven't worked with them before, you have the perfect opportunity to market your net sheet calculator.
Let the other agent know you have a tool that can help them with their net sheet calculations in the future to close deals faster. No matter how you get the information to them, for example, a Canva-made brochure via email, print, etc, it's important to act quickly and get the calculator in front of them while you're still working on the sale together.
6. Use QR codes
Quick Response (QR) codes have never been more important in real estate than they are today. Each QR code is unique and can hold information such as a website link, coupon, promotional details, or other information. When scanned by a smartphone, the code quickly reveals the information. Think of it as a barcode, but with the ability to hold more data.
Use QR codes to link your calculator to. This way all you have to do is scan a QR code to access it. Share the QR code with Realtors and Lenders to help them easily access your net sheet calculator from anywhere.
TitleTap provides each net sheet calculator with its own QR code already done for you, request a demo to learn more and try it for yourself!
The real estate game is competitive and moves fast. Title agents and attorneys know they need to be responsive to be successful. This applies to marketing your net sheet calculator, too. Move quickly to get it in the hands of prospects, and be sure to follow up and monitor interactions so you can take full advantage of all that your net sheet calculator can offer.
Need help with a net sheet calculator or want to learn more? Check out TitleTap's net sheet calculator solution and request a quick demo today!