Kentucky Net Sheet Calculator
Title Insurance Rate Calculators: Seller Net Sheet, Buyer Finance, Buyer Cash, Title Insurance Premium, and Refinance Options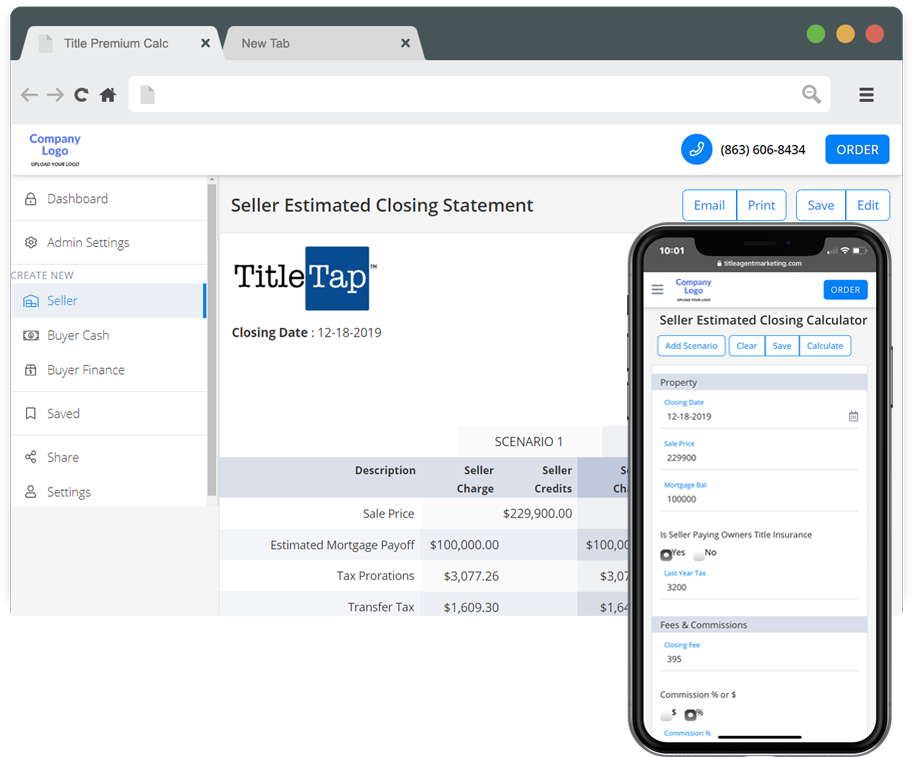 Buyer & Seller Net Sheet
Easily give your clients access to your fees and rates.
Side-By-Side Scenario
See up to 3 different net sheet scenarios side-by-side.
Co-Brand with Customers
Allow Realtors, Lenders or Staff to co-brand with their headshot & info.
Refinance Calculator
With refinances on the rise, this is available in most markets.
Title Premium Calculator
Non-login Title Premium calculator for quick access to rates.
Save, Edit, Share & Order
Save or edit, share with clients and place a title order with a click.
Common Kentucky Net Sheet Calculator Customizations
Filed Rate State
Kentucky's title insurance rates are filed which simply means that the rates are submitted to a governing body for review. They are also subject to Municipal Premium Tax.
Deed Transfer Tax
In Kentucky, there is a deed transfer tax by State and a Municipal Real Estate Conveyance Taxes.
Mortgage Transfer Tax
Yes, there is a mortgage tax in Kentucky. It is known as Deed Transfer Tax.
Owner's Title Insurance
For instance, in Kentucky the buyer typically pays for the Owner's Title Insurance Policy.
Lender's Title Insurance
In Kentucky, the Lender's Title Insurance Policy is typically paid for by the Buyer.
Title Search & Exam Fees
The Title Search & Exam Fee in Kentucky is paid by the buyer.
Survey Fee
When closing on a piece of real estate in Kentucky the Survey Fee is usually paid by the buyer, although it is negotiable.
Closing Fees
In Kentucky, the buyer pays most of the closing fees with a small portion to the seller.
Recording Fees
In Kentucky the buyer pays the recording fees.
Recording Fees
In Kentucky the buyer pays the recording fees.
Want your own closing cost calculator for Kentucky?
To request a quote or questions, contact us below.

60-day Money-Back Guarantee