It is very common for title companies and real estate law firms to have their own preferred closing cost calculators in today's market.
They can come in many different formats from net sheets, to title premium only calculators, or even title rate comparison quotes to evaluate different underwriters in filed rate states.
Some are offered as off-the-shelf or SaaS software you can purchase for a monthly or annual subscription. 
Many underwriters offer their own calculators that you can use if you are an agent of theirs, typically at no additional costs but with limited or no private branding opportunities.
And yet for some with complex requirements (such as doing business in a tri-state area), custom development might be required.
Here is a list of all of the closing cost calculators we've found that you can purchase or use, and examples of the types of companies they might be most useful for.
Off-the-shelf & SaaS Solutions
ClosingCorp
ClosingCorp used to offer a rate estimate calculator but now only offers a true rate database.
TitleTap's Net Sheet Calculator
TitleTap's Net Sheet Calculator originally launched in 2013 as one of the first solutions specifically designed by and for a title company  to deliver a simple and easy format to attract more Realtors and Lenders. Over the years it has grown into so much more than just a net sheet.
It's also a Title Premium Calculator
For example, it also has a title premium calculator widget that can be embedded into your title company's website with ease. This can provide your Realtors and Lenders instant title quotes without ever having to sign in.
Available for Web & Mobile App
The title premium calculator also prompts users to the more robust Net Sheet Calculator – which is not only a web app but can also be downloaded to smartphones or tablets as a mobile app.
Seller Net Sheet, Buyer Finance, Buyer Cash, & Refi
The net sheet calculator includes 4 different types of calculators to cover the most common closing cost calculations for real estate agents and lenders: a seller net sheet, buyer finance net sheet, buyer cash net sheet, and a refinance calculator.
Brand & Customize
In addition, it features the ability to brand and customize the calculator with your logo, office location, fees as well as any helpful links. It will also allow your Realtors and Lenders to co-brand the calculator with their picture and logo to help boost their marketing.
Scenarios to Compare Multiple Offers
Lastly, a new scenario planner will allow users to stack multiple offers side-by-side to compare the best offer for the client. This has been a very popular feature since homes are getting into multiple bidding scenarios lately.
Pros: Affordable, full-featured, but simple enough to use by most real estate agents and lenders.
Cons: This does not include delivery in Closing Disclosure (CD) or ALTA Statement formats.
Palm Agent
Palm Agent is another popular closing cost calculator that can be purchased off the shelf and customized for your company.
The nice thing about Palm Agent is that it offers multiple downloadable apps for every platform, whereas, some of the other solutions offer only web and mobile apps for the most common devices and formats.
For example, they even offer a native Mac app (in addition to their web and app), and allow you to replicate their website for advertising your Palm Agent app.
This could be helpful if most of your market uses Macs, for example.
TitleCapture
Another early and popular solution for a net sheet calculator is TitleCapture.
A couple of pros with TitleCapture's is that they have a really nice interface and that they offer a wealth of different calculators within a single solution. 
This makes their app usable in most markets.
Underwriter Calculators
As previously mentioned, many popular underwriters like First American Title, Old Republic Title, and Fidelity offer their own versions of closing cost calculators. Some are full-featured like the solutions above, yet others are more for title rate quotes and title premium lookups primarily intended for internal usage for title companies or real estate law firms.
Here is a list of the most common ones that we've found.
Chicago Title's Net Sheet Calculator
Chicago Title's rate calculator is great for rate lookups for you or your staff and appears to be primarily for internal use as it has no branding features.
Commonwealth Land Title Insurance Company Rate Calculator
Commonwealth offers a few different calculators including a downloadable Windows rate calculator, a national online calculator, and even a mortgage calculator.
On their homepage, they state that the website and tools are for their customers and not for third-party use such as offering the tool to Realtors to use. But still will be very useful for staff if you are an agent of theirs.
Commonwealth is also a subsidiary of Fidelity (like Chicago Title) so they also have a very similar rate calculator to Chicago Title for quick title quotes. 
Lawyers Title Rate Calculator
Lawyers Title is another subsidiary of Fidelity so their rate calculator looks very similar to Chicago and one of Commonweath's calculators.
Old Republic Title Rate Calculator
Old Republic takes a unique approach by initially offering a map that when clicked takes you to the proper rate calculator for that state. This is a very nice and clean interface.
They also simplify the interface by only offering the necessary fields to get an accurate title premium quote along with the common endorsements.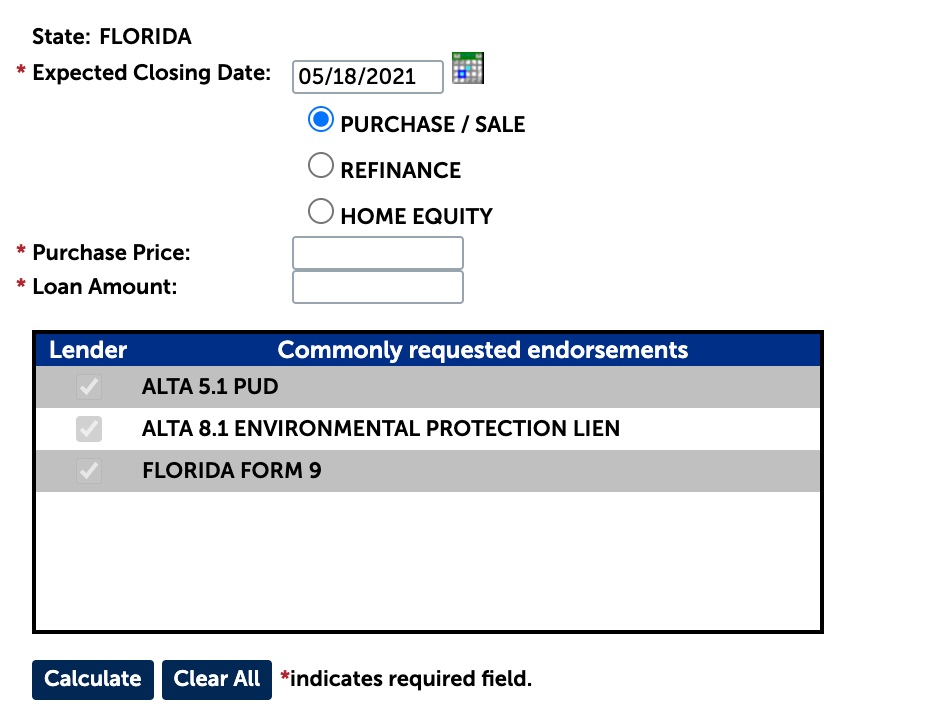 PRISM by First American 
First American launched PRISM in 2021 and it is the first Underwriter-specific calculator to offer custom branding options. It is not a free solution but offers robust Seller Net Sheets, Buyer Estimates, and Refinance quotes delivered directly to your customers' desktops and mobile devices and include:
Your agency settlement and closing fees

Your logo, contact information, and company branding

Local recording fees and transfer taxes

First American Title policy rates and endorsement fees
You do have to be a First American Agent for this solution to be a fit. 
Stewart Title Rate Calculator
Stewart takes a modern approach to their calculator by not only offering a Title and Escrow Estimate but by also including a buyer and seller net sheet like some of the other solutions we covered earlier.
Custom branding options don't appear to be available, which really limits the use in marketing the calculator to your customers.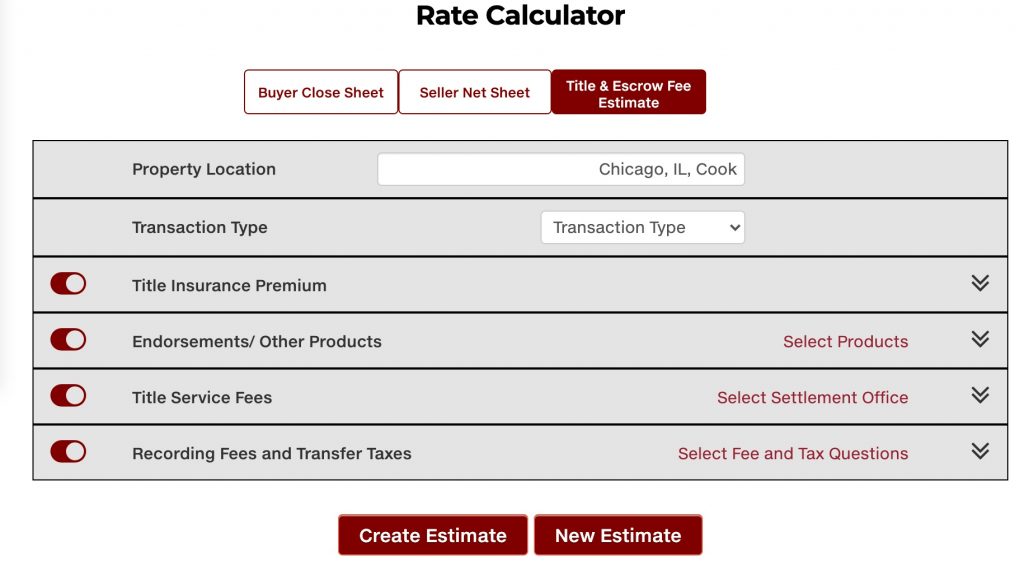 The Fund
The Fund, based in Florida, offers one of the best selections of calculators their members can use on their website for their clients including a Closing Cost Calculator, a Buyer Cost Sheet, Title Premium, and a Seller Net Sheet.
To use these calculators and to become a member of The Fund you must be both:
a) Based in Florida 
b) And an attorney
This really limits the majority of the United States.
WFG Rate Calculator
WFG started offering direct lookups of rates on this website.  It seems to lack custom branding options which suggests this is suited for internal purposes.  
Do-It-Yourself or Custom Solutions
There is a third class of net sheet calculator beyond a software-as-a-service and an underwriter calculator is by creating your own – whether that is a do-it-yourself excel spreadsheet or by hiring a custom development firm to do so.
We usually ONLY recommend this option if you have very unique circumstances, such as you operate in many different states, or need to include something that isn't offered in the other options.
Excel Spreadsheet
This was very common 10 years ago, but now most title agents use one or more of the other solutions listed above as they are easier and less time-consuming to maintain – especially if your rates and fees change frequently.
Custom Development
And finally is the custom development approach. The nice part of this is that the calculator will be built exactly as you want it. 
But the downside is that software typically takes 2x-3x more time and money than you will expect it to and that it will also take you time, money, and focus to maintain the software.
Which net sheet and title premium calculator solution is right for you?
As you can see, there is no shortage of options for a closing cost calculator for your real estate law firm or title company. The main thing you need to figure out is what you are going to use it for?
Will the net sheet be used to market your brand?
Will it be used internally only?
What types of title quotes are the most common in the market we service?
To do this, do we need one or multiple solutions?
Answer these questions and the choice should easy.
If you are looking for a versatile closing cost calculator that is still affordable, check out NetSheetCalc.com and get a 60 day money-back guarantee.